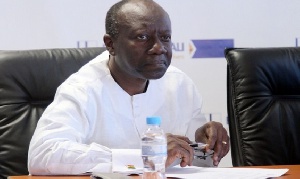 Finance Minister Ken Ofori-Atta will "immediately" drag the Commission on Human Rights and Administrative Justice (CHRAJ) to court, in an attempt to "set aside" some "extraneous" and "ancillary" comments made by the ombudsman in its report covering a probe into the Minority's alleged conflict of interest against him in the issuance of $2.25billion bond in 2017, Information Minister Mustapha Abdul-Hamid has said.
At a press conference, Mr Abdul-Hamid said: "I have seen Ken Ofori-Atta's assets declaration forms and I wish to state that Databank was declared as an institution in which he hold shares.

"It is important to state that CHRAJ's refusal to call Ken Ofori-Atta to explain this item on his assets declaration form, was a travesty of justice and failure of the test of natural justice," Mr Abdul-Hamid said on Thursday, 1 February.

He continued: "We find that CHRAJ went beyond the matter of conflict of interest to make pronouncements on other matters that it was not seized with the capacity to make.

"CHRAJ can make pronouncements on only conflict of interest situations and not issues to do with bond issuance and its ancillary subjects. That subject, per the Securities Industry Act, Act 929, is reserved for the Securities Exchange Commission (SEC).

"Indeed, the Deputy Attorney General and Deputy Minister of Justice, Godfred Yeboah Dame, made this point on the 3 January 2018 … In the same day, the matter of assets declaration was not before CHRAJ and CHRAJ was, therefore, not seized with the power to make a pronouncement on it.
"We find that it is these extraneous matters which CHRAJ commented on, which have become the ammunition with which the NDC has started a new round of attacks. "We hereby serve notice that Ken Ofori-Atta will proceed to the court immediately to seek to set aside those extraneous matters in the CHRAJ report," Mr Abdul-Hamid noted.





According to the government spokesperson, "As players in a democracy, we expected that the NDC will take the CHRAJ ruling in their stride and move on but it seems that the Minority is determined to keep this matter going using it for nuisance purposes."