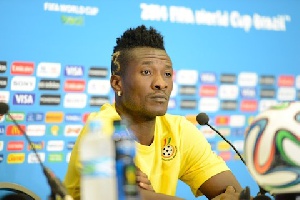 Black Stars captain, Asamoah Gyan, says the 2014 World Cup Commission of Inquiry wasn't fair to him.
After Ghana's shambolic display during the 2014 World Cup, the then president of Ghana John Mahama constituted a Commission of Inquiry to look into matters regarding Ghana's poor outing.

However, Justice Dzamefe's led Commission in their report advised that Asamoah Gyan should be taken to a leadership.

But Gyan in an interview with Accra-based Hot FM said, the Commission wasn't fair to him.
"The Commission wasn't fair to me at all. I have done my best for Ghana by creating jobs in the country," he said.

"In Ghana i have employed 300 people and i pay them every month, i also pay taxes. So i'm doing my best in Ghana's economy. I haven't been to a leadership school but i have been doing a lot in the economy."

"When i moved from England to UAE, people said i moved because of money, when i moved to China they said the same thing. I will say the money i got is what i'm investing in the country, i have created jobs in the nation. For me the Commission has not been fair to me."