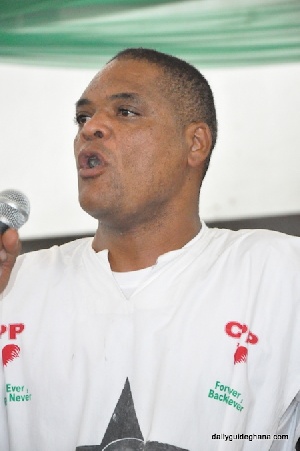 The flagbearer of the Convention People's Party (CPP) Ivor Greenstreet has lashed out at the opposition NPP, describing their campaign promises as impractical.
According to him, many of the NPP's promises including the one-district, one factory promise is merely for votes and not feasible.

Addressing a crowd of CPP supporters in Koforidua in the Eastern region, Mr Greenstreet urged voters to shun the largest opposition party because they are not real with their plans.

"Trust me the NPP's promise of giving you one-district-one-factory is not feasible. They are only telling lies for your votes," he said.
He added that the Danquah-Busia-Dombo tradition cannot fulfil the gargantuan promise even if they are given 20 years in government.

He however said the CPP, on the other had, has proven records of delivery when if government urging the electorate to once again trust the Nkrumahist party to salvage the nation.

"Even if you give the NPP 20 years it can't do that let alone a four-year mandate. We (CPP) have done it before and we know how to do it again".