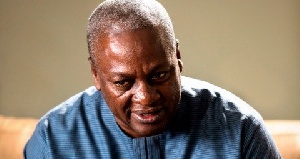 President John Mahama has said he will do everything possible to ensure a one-touch victory for the NDC in the 2016 elections.
According to him, the NDC as a party has a great track record in government and will leverage on that to win next year's polls.

Addressing executives of the party while presenting his nomination forms for the upcoming presidential and parliamentary primaries of the party, Mr Mahama said he will do all in his power to continue the heritage left by his predecessors.

"I have come with all humility and respect to seek your mandate to represent the party again for election 2016.

"I have submitted myself duly to the process as required by the constitution and I am confident in winning us victory again.
"I promise to continue the great heritage of our party as set by my predecessors Jerry John Rawlings and Professor Atta Mills," he stated.

He added: "I will do everything possible, physically, materially and spiritually to lead NDC into one touch victory in 2016".

The ruling party has set its presidential and parliamentary primaries for November 7.