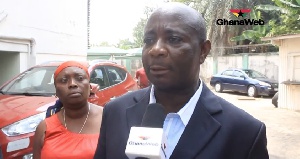 Businessman and a politician, Mr. Akwasi Addai Odike has said the 2018 budget statement presented to Parliament by the Finance Minister, Ken Ofori-Atta is will create avenues for employment.
According to him, the budget is one of the excellent budgets ever to have been presented to Ghanaians in the history of this country urging individuals and businessmen to take the opportunity to expand their establishments.

The founder and 2016 flagbearer of the United People's Party (UPP) observed the Akufo-Addo led New Patriotic Party (NPP) government is full of business ideas.

"I have observed that this government led by President Nana Addo Dankwa Akufo-Addo has wisdom to create employment to cater for the employment needs of the suffering Ghanaians", Mr. Akwasi Addai Odike stated promising to support the government to succeed.

Speaking to mynewsgh.com, the UPP founder urged Ghanaians to exercise restraint with the government as plans are underway to ensure Ghanaians have better conditions of living.
Meanwhile, the Head of Finance at the University of Ghana Business School (UGBS) Professor Godfred A. Bokpin says the budget will get Ghana back to work again.

"I think that is a good budget. …and it is a budget that offers a lot of hopes", Professor Godfred A. Bokpin stated on Joy FM's Top Story.

"Beyond this stage we want to look at the implementation strategy to translate the good intentions into actuals", he added.