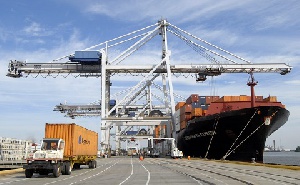 The Ghana Union of Traders Association (GUTA) is calling on government to reduce the high import duty rates in the 2019 budget reading on Thursday, 15th November, 2018.
Finance Minister, Ken Ofori Attah is expected to present the 2019 budget on behalf of government to Parliament on Thursday.

The association among other things is hoping that procurement processes will be simplified.

Dr. J.K. Obeng, President of GUTA, lauded government's effort in ensuring the necessary policies are put in place to boost the country's performance in the area of export.

"We want pragmatic steps to be taken so that the duty rates will be reduced. We want procurement to be so simplified as well. Ghana as a nation has not done badly in terms of exports and the cash accrued therein. About 70% of countries are import based and are doing very well. The management is what matters," he noted.
GUTA says government should engage them before taking decisions that affect them.

"Honestly speaking, the cost of doing business in this country is very expensive. It is important that government engages us before taking some decisions. Taking decisions on our behalf all the time is not the best way to go".