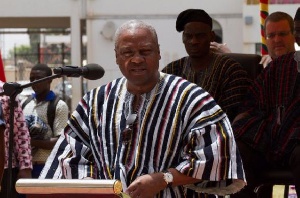 Former President John Dramani Mahama says considering the abysmal performance of the Akufo-Addo led government in the last two years, the National Democratic Congress (NDC) has a bright chance of winning the 2020 elections.
"We have a good chance to win 2020 elections because of the method in which the NPP came into power. They used a lot of sweet words, they promised heaven and I don't think they thought through the promises because some of the promises were weird and absurd".

The former president made the comments when he addressed delegates of the party in the Bolga East Constituency in the Upper East Region as part of his nationwide campaign tour to lead the party in the 2020 presidential elections.

Mr. Mahama added "When we were in power, small and medium industries were setup in the districts, but One District One Factory sounds nice to the ear, but not only that, One Village One Dam and we say what kind of dam?, the reality comes, they dig dugouts. Under GSOP we dug dugouts across most districts of the country."

"The worst one is $1m per each constituency and Bolga East was expecting $2m but for 2017 and 2018 no constituency has received such monies. My worry is that, it shakes the fate of Ghanaians in our democracy, it makes Ghanaians believe that politicians are just lairs and will not fulfill their promises".
According to Mr. Mahama, the NPP government has abandoned the Bolgatanga-Bawku-Pulmakon Road because it believes the contractors in charge of the project are aligned with the opposition National Democratic Congress (NDC).

"All the good projects that we started— the roads, the hospitals, the schools, the electricity, the water [so] if we come we would continue from where we left off— have been abandoned. Since I started going round I noticed that most of those projects have been abandoned.

"The roads we were working on whilst I was [President], they have come to a standstill. It is because government is reluctant to pay the contractors. They believe that the contractors are NDC contractors. Many of the big construction companies have laid off workers. It's not only in banks. Look at those who are working on the Bolga-Bawku Road. Today, are they working? They've laid all the workers off," he said as a crowd of party supporters sighed with grief