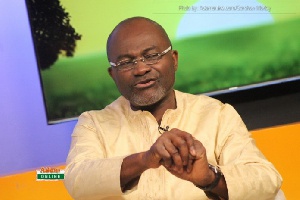 Member of Parliament for Assin Central Kennedy Agyapong has served a note of caution to the ruling New Patriotic Party (NPP) that it could lose in the Central Region in the 2020 elections owing to dirty in-fighting and factionalism as a result of the party's internal contest in the region, MyNewsGh.com can report.
According to the MP, the problems are such that if not managed, it could affect the party.

"Problems are brewing in the Central Region NPP… I came from there yesterday, it was serious." He said.

He said the party appeared not to give those issues attention because everyone is busy with the upcoming contests.

"Maybe NPP is not paying attention to it because everyone is busy with the contest. But when I went round, it's as if we have broken sticks in our ears.", he said in disappointment.

In the MyNewsGh.com-monitored interview, he said "the problems Allotey Jacobs (NDC C/R Chairman) went through to lose in 2016 is what is happening to us. It happened to us in 2008. We dropped from 16 to 8 because of problems. So wherever we went to campaign, we ended up solving internal problems. We couldn't solve many." He recalled what happened in 2008.
"What is happening now which I want my party… which I want our party to know is that it is not our work that will send us to opposition, but actual fight. So me I am telling them on air for NPP to sit up and solve these problems.

The election that they went, it has divided the party. This person said this is his faction, that person said this is my faction. Some MPs have hard ears. I warned them to stay away and work with anyone who wins because democracy not everyone will like you. It is your attitude that will determine.

Some MPs openly supported a group of 10 and they all lost. So it is not easy. If you look at President Kufuor, the work he did for us. The roads he built in Central Region but our own fights made us lose … this person has said this .. he has done this… fights… I went with Kwamena Bartels up to midnight to solve some of the issues." He explained.

"I have never seen a dirty campaign like what is happening in Central Region. NPP always brings division when it is in power… What is going in the Central Region… Maybe John Boadu and co are busy campaigning"