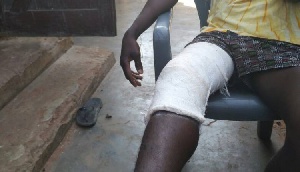 The 21-year-old man who was allegedly shot and abandoned by the police will have to wait until next week to get surgery.
Jonathan Odai Laryea who was on an errand was accidentally shot by the police in Kwabenya who were on a hunt for some suspected robbers following the gang attack on the Police station there.

He is currently battling with life-threatening injuries as the three bullets lodged in his thighs have not been removed six weeks after the incident.

Dejected and looking frail as a result of the pain in his thigh, he told Starr News' Regina Borley Bortey, Thursday that: "After the guys shot me in the leg, I told them to kill me because I don't know what to do. So I was put in a car and by the time I realized I was at the Police Hospital."

Regardless of the Duffuor Foundation coming to the rescue of the 21-year-old man by pledging to foot the entire bill to ensure that he successfully gets the bullets lodged in his thigh removed, he would have to wait till next week.

Speaking to Starr News, the family of the victim said they are disappointed at the turn of events.

Meanwhile, pressure is mounting on the Inspector General of Police (IGP), David Asante-Apeatu, to take up the case of the 21-year-old man.
Outraged by the failure of the Service to cater for the victim, a Human Rights group, Amnesty International said it was going to investigate the matter and ensure that the victim gets the needed support.

"…It is a heartbreaking…truly heartbreaking issue," said Robert Akoto-Amoafo, the Country Director of Amnesty International in a Starr News interview.

On his part, the Director of Research and Academic Affairs at the Kofi Annan International Peacekeeping Training Centre, Dr. Kwesi Aning warned that the attitude of the police on the matter could adversely affect the relationship with the public.

"The more disturbing part relates to community relations, particularly in an era and a period where we want closer and better partnership in terms of intelligence sharing," he told Francis Abban on the Morning Starr, Friday, March 16, 2018.

He said the story of the 21-year-old must be in the interest of the hierarchy of the service, "particularly as they themselves recognized that this was an operational mistake that has led to these quite debilitating injuries."

"So, it is quite appropriate that this is resolved as quickly as possible so that this young man [victim] can have the operation that he needs," he added.