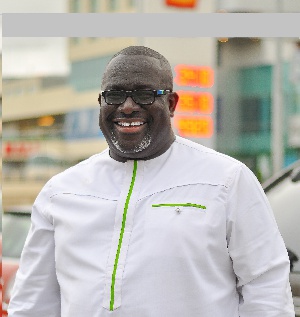 Outspoken supporter of the New Patriotic Party, Kwame A Plus has opened the skeleton in the cupboard of self-acclaimed Facebook MP Hon Rodney Nkrumah Boateng, a vociferous social media sympathizer of the ruling party and allegedly an official in government over his conviction in the United Kingdom for scam in 2012.
The facebook MP who is known for his sense of humour and NPP partisanship, as well as his interests in Opoku Ware School matters apparently provoked A Plus when he 'mocked' in an innuendo A Plus' running from Ursula Owusu-Ekuful's court suits.

A Plus, who provided evidence to back his claims of fraud showed that Rodney Nkrumah Boateng was convicted by the Tribunal for holding himself out as a lawyer, when he was not, for scam and subsequently fined together with his accomplice, a 'dishonourable' attorney who was not in good standing at the time of scam.

The Tribunal ruling which was shared by Kwame APlus also barred Rodney Nkrumah Boateng from holding any form of employment in the UK in whatever form, while employees were warned not to employ him or give him any position of responsibility.

A Plus who shared the full document of the court ruling also wrote:

"One day, parents, individuals and organisations will call their loved ones and beg them to just ignore Kwame A Plus.

In which serious country will a person like Rodney Nkrumah be allowed anywhere close to government or an employment in any organisation. If all the over five million people who voted for the NPP attack me five million times, I will respond to all of them, five million times.
In 2012 he was found guilty by a tribunal in the UK for defrauding people by false pretence that he was a lawyer when he was not. He was also found guilty for arranging fake marriages and taking money from the unsuspecting persons. I have attached screenshots of the tribunal rulings below. Read for yourself.

You guys sit on Facebook and do paapaa!!! I know everybody in Ghana.

This is just the beginning.

And hey, just in case you too want to sue me, serve me on social media. Because the "judge is correct paaa" #halfmanhalfbosom"