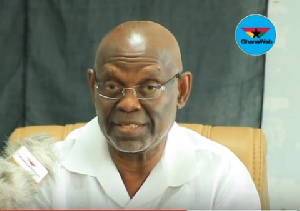 A leading Member of the National Democratic Congress and former Finance Minister in the erstwhile Jerry Rawlings administration, Professor Kwesi Botchwey has called on politicians in the country to exhibit a high sense of selflessness if they hope to win the trust of the public.
According to Professor Botchwey, the penchant of the ruling class to over focus on themselves at the expense of the general well-being of the people is the reason for lacklustre attitude of the public towards development in the country.

Prof. Botchwey added that the time has come for the real essence of leadership which is service to the masses to be exhibited in the country so citizens can develop trust in leadership.

Speaking at the 2nd Commemorative Lecture for the Late President Atta Mills at the University of Cape Coast, which was on the topic "Ethicality, Democracy and National Development, the legacy of President Atta Mills", Prof. Botchwey called on Ghanaian politicians to take a cue from the humility, candour and selflessness exhibited by the late Mills if the country wants to be successful in rallying the support of all for rapid development .
He added that a leader without a sound ethical base is bound to fail as he will not be able to achieve the real objective of leadership which is improving the wellbeing of the masses or followers.

Governance decisions, he added must also be tailored in addressing the concerns of the people and not empower the few elite in the country.

He cited the implementation of the Single Spine Salary Structure as one measure which exemplified the commitment of the late Mills in bettering the lot of many in the country despite its huge ramifications especially on the then poor national purse.