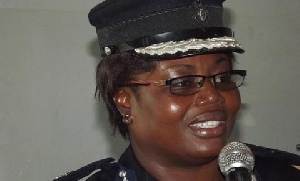 An activist of the main opposition National Democratic Congress (NDC), Appiah Stadium, has revealed that the Acting Director General of the Criminal Investigations Department (CID) of the Ghana Police Service, ACP Tiwaa Addo-Danquah, threatened to jail him for allegedly insulting President Nana Addo Dankwa Akufo-Addo.
According to him, when he was arrested in Kumasi and later transferred to the Police Headquarters in Accra, the then Deputy CID boss, ACP Addo-Danquah, single-handedly subjected him to inhuman treatment over his comments regarding the President.

Appiah Stadium, who was arrested on Tuesday, September 26 by the Ashanti Regional Police to substantiate an allegation he has levelled against Nana Addo Dankwa Akufo-Addo, that the First Gentleman of the land smokes 'wee' (marijuana).

He was later transferred to the CID headquarters in Accra. However, President Akufo-Addo said he was not interested in pursuing the case, and accordingly ordered the release of the NDC activist.
Speaking on the Ghana Yensom show on Accra 100.5FM on Friday, October 27, Appiah Stadium said, among other things, that: "People insulted John Mahama several times but they were not arrested, all kinds of words were used in describing John Mahama and his family, but those people walked freely on the streets in this country. But when I decided to criticise President Akufo-Addo, they had to come and arrest me.

"Let me say for the first time, ACP Tiwaa Addo-Danqauh, who was the Deputy CID boss at the time, now the main boss, threatened to jail me because I have attacked the President. For me, that was surprising because we live in a country that people enjoy free speech. As I said, similar or worse comments were passed at John Mahama, but those people were not arrested."