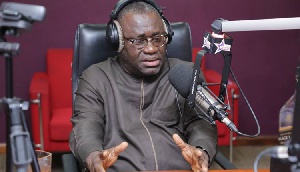 The Director, Faculty of Academic Affairs and Research at the Kofi Annan International Peacekeeping Training Centre (KAIPTC) Dr. Kwesi Aning has described the diplomatic corps in Ghana as "liars".
According to him, members of the diplomatic corps in Ghana fabricate stories to gain promotion in their respective countries.

Responding to reports by Wikileaks that he had described President Akufo-Addo as a weed smoker on Starr Chat, the security analyst said that report was a complete fabrication.

"That officer who wrote that report needs to be put on trial, my suspicion is that he had misspent that money that was given to entertain and he had to make up stories, I am not that stupid.

"When that story came out I issued a statement backed by the Kofi Annan Institute challenging the American embassy to bring out the tape…if not for anything at all the president is a man who believes in the rule of law and that is a man that I respect," Dr. Aning told host Bola Ray on Wednesday.
The security analyst added "So that was a lie by the Americans and post that I have lost respect for the diplomatic corps because I know they lie, they fudge information because they want to get promotions in their own countries.

In a 2011 report by Wikileaks, Dr. Aning reportedly revealed to the US embassy and not only confirmed his knowledge of Nana Addo's drug use but also referred the US ambassador to the Germans intelligence service for verification.

"When asked about rumours of Akufo-Addo's cocaine use, Kwesi Aning admitted that Akufo-Addo had used drugs in his younger days, but that was now under control." He added cryptically that "you can check with German intelligence on that."