AG 'attacks' CDD-Ghana over 'govt continuous assault on the Office of the Auditor-General' statement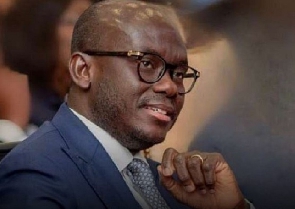 The Attorney-General and Minister for Justice has rejected an assertion by the CDD-Ghana that his opinion that the Auditor-General should withdraw the audit report on the government's COVID-19 expenditure it published amounts to an assault on the Office of the Auditor-General.
In a statement issued on February 15, 2023, Godfred Dame said that the assessment by the CDD-Ghana (Ghana Centre for Democratic Development) that the Attorney-General cannot advise the Auditor-General because he is supposed to be independent is wrong,

He added that his advice to the Auditor-General was well within the remits of the 1992 Constitution of Ghana.

"The Attorney-General considers it imperative to correct the palpable errors contained in and implied by the press release of CDD-Ghana, as same distort the relationship between the Attorney-General and the Auditor-General in the constitutional architecture of the Republic and have far-reaching implications for Ghana's record in rooting out corruption.

"Contrary to the strange view of CDD-Ghana, the letter and spirit of laws governing the work of the Auditor-General make him part of the Audit Service of Ghana and, therefore, a regular member of the public services of Ghana to whom the Attorney-General can give advice pursuant to his mandate under article 88 of the Constitution. Article 189(2) of the Constitution provides a clue when it stipulates thus "The appointment of officers and other employees in the Audit Service, other than the Auditor-General, shall be made by the Audit Service Board, acting in consultation with the Public Services Commission".

"It is astonishing that CDD-Ghana disputes the propriety of the Attorney-General rendering legal advice to the Auditor-General, and construes same as "an interference with the independence of the Auditor-General"," parts of the statement issued by the A-G read.
Godfred Dame reiterated that he offering legal advice to independent bodies like the Audit-Generals Department does not amount an interference.

Background

The Attorney-General, in an opinion regarding the publication on the website of the Auditor Service of an audit into the Government's Covid-19 transactions, advised the Auditor-General to pull down the report and publish it after it has been debated by Parliament and referred to an appropriate committee of Parliament in accordance with article 187(6) of the Constitution.

"The constitutional duty of the Auditor-General to submit his reports to Parliament and Parliament's consequential obligation to debate and scrutinize same will be 'grossly prejudiced' by prior publication of the report," parts of the opinion by the Minister for Justice, read.

Reacting to this in a press statement, the CDD described the opinion by the Attorney General as outrageous.
"Section 23(1) of the Audit Service Act, 2000 (Act 584) requires the Auditor General to "publish his reports . . . as soon as the reports have been presented to the Speaker to be laid before Parliament." Nowhere in this or any other law, including the Constitution, is it suggested that the Auditor-General must wait until his report has been laid before or debated by Parliament before he may proceed to make it public," it said.

It added that the action of the Godfred Dame formed part of attempts by the Nana Addo Dankwa Akufo-Addo Government to interfere in the work of the Auditor-General.

Read the full statement by the Attorney General below:



You can also watch this episode of People & Places here:




IB/DO