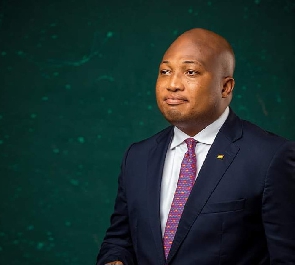 President Nana Addo Dankwa Akufo-Addo is being criticised for alleged interference in the work of the Electoral Commission of Ghana after a memo of an order for the Curriculum Vitae (CV) of senior officials of the commission went viral.
In the said memo, which is dated May 29, 2023, the director of human resources at the commission stated that the CVs were to be submitted via email following a request by the presidency, directed at senior management of state agencies.

"This comes to inform you that the Office of the President His Excellency Nana Addo Dankwa Akufo-Addo has requested for the Curriculum Vitae of Senior Management of State Agencies from Director and above.

"You are therefore requested to submit your CV by noon today. 29th May 2023 through mailto:ec.hrdirectorate@gmail.com for the attention of the Commission," parts of the memo reads.

The Member of Parliament for North Tongu, Samuel Okudzeto Ablakwa, has now shared a letter containing the said order by the presidency given to the EC and other state institutions, on Twitter.
The letter to the state institutions, which was issued by the Deputy Chief of Staff, Emmanuel Adumua-Bossman, confirmed the order in the memo of the EC.

"We write to request for the Curricula Vitae (CVs) of Senior Management Officials (Director level and above) of all State Agencies.

Kindly submit both hard and soft copies of CVs to the secretariat of the Deputy Chief of Staff (Operations) at the Office of the President, Jubilee House by C.O.B. Friday 5th May, 2023," it read.

In the tweet, which was shared on Wednesday, May 31, 2023, Okudzeto Ablakwa asked the presidency to explain to Ghanaians the motive behind its order.
View the MP's tweet plus the letter by the presidency below:


This is the letter Prez Akufo-Addo instructed his Deputy CoS for operations to write to public institutions including the constitutionally independent EC demanding CVs of top officials. The presidency must inform Ghanaians what kind of "operations" warrants this strange request. pic.twitter.com/2zmHBihGTh

— Sam Okudzeto Ablakwa (@S_OkudzetoAblak) May 31, 2023
Meanwhile, watch a snippet of GhanaWeb TV's latest program that focuses mainly on Everyday People below:




You can also watch the latest episode of People & Places on GhanaWeb TV:




IB/WA