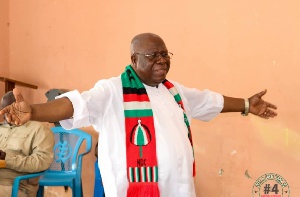 A defeated aspiring National Chairman of the National Democratic Congress (NDC), Daniel Abodakpi, has expressed his readiness to offer his support to the newly elected national executives of the party.
According to him, he decided to contest the chairmanship position of the party after painstaking consultations with major stakeholders, and after he had convinced himself that his refusal to contest the position would amount to dereliction of duty.

"For decades, I have served diligently and sacrificed immensely for our party; the records bear me out. I wish to express my desire to willingly use my experience, knowledge and skills to support the new administration as we seek to wrestle power come 2020," he added.

He urged the newly elected executives to reconnect the party to the grassroots in the interest of unity, adding that "going forward, our newly elected executives should build a formidable NDC that is self-healing, that guarantees peace and unity and that recognizes and rewards hard work . . ."

He believes that the task ahead to wrest power from the New Patriotic Party (NPP) government will be difficult but when all hands are on deck, coupled with trust, teamwork, mutual respect, and understanding, it will be possible.
"I entreat our newly elected officials to rekindle the spirit of the grassroots through a participatory approach in decision making through the party's structures", he pleaded.

Delegates of the NDC elected Samuel Ofosu-Ampofo as the party's national chairman. He had a stiff competition from a veteran party member, Dan Abodakpi; former Attorney-General, Betty Mould Iddrisu; former NDC General-Secretary, Alhaji Huudu Yahaya and businessman, Danny Annan.