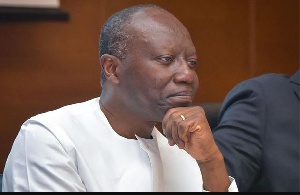 A cross section of the Ghanaian public have said they expect the 2019 Budget Statement to include measures to abolish the special levy on some petroleum products.
They say almost every citizen suffers whenever the prices of petroleum products go up because of the general use of the products to fuel socio-economic activities.

Abolishing the levy, they said, would, therefore, send relief to virtually everyone.

The Minister for Finance will present the Budget to Parliament on Thursday, November, 15.

President Nana Addo Dankwa Akufo-Addo has said the Budget would reflect the hope Ghanaians have in the Government and the future of the country.

Information Minister Kojo Oppong Nkrumah has also said it would mark the beginning of Ghana's exit from the International Monetary Fund (IMF) programme, under which Ghana sought almost 918 million dollars over three years with conditions.
He said the Budget had been designed to bring more relief, hope and improvement in the standard of living of our people.

"The Minister of Finance will demonstrate to Ghanaians what, as we exit the IMF programme, the Akufo-Addo Administration intends to do to maintain the Fiscal Discipline, which has been restored; increase liquidity in the Ghanaian economy; and sustain the heightened growth,'' he said.

Mr Daniel Narh Kwao, a petroleum transporter of Okodatt Company Limited, told the GNA the abolition of the Special Levy would help his business a great deal.

"When the prices of petroleum products go up it affects the standard of living and the businesses of many people," he said.

"Petroleum is a commodity, which is widely used in industries and companies and at the domestic level, so it is one single thing that we can all relate to," he said.


Many other interviewees also raised issues with the prices of petroleum products and asked for remedial measures.

The Special Tax was introduced in 2014 by the previous government as a price stabilisation and recoveries levy.

Last year's Budget reviewed it from 15 per cent to 13 per cent. It has also been made a specific tax instead of an ad valorem one, which made the consumer pay more automatically any time there was an increase in fuel prices.

Mr Dominic Adjei, a trader in timber products, however, urged the government to introduce new taxes to rake in more revenue towards the development of the nation.
"The government should introduce more taxes to mop up revenue or broaden the tax net to accrue more revenue to improve the betterment of the people," he said.

The Budget, he said, should also prioritise allocation to projects that would be of immense benefit to the entire nation instead of a section of the society.