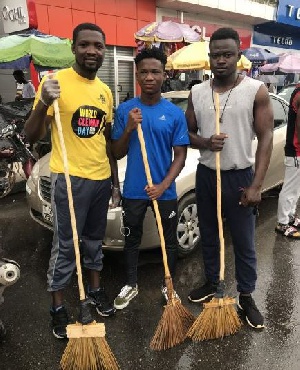 Ghanaian movie export, Abraham Attah joined forces with his father in the movie, "Beast of no nation"Kobina Amissah-Sam to clean up the streets of Takoradi.
The group also followed up to donate some shoes and food items to Father's Home Care, an Orphanage in Takoradi.

Meanwhile, Kobina Amissah-Sam has also been assigned to lead the "World Clean up Day" set for September 15, 2018 which intends to get 150 countries including Ghana on board to take an extraordinary action of cleaning their respective countries using citizens.

The World Cleanup Day 2018 seeks to engage five per cent of the world's population to create lasting change on sanitation and that goes beyond just one day of incredible activism.
Let's Do It Ghana is the local branch of Let's Do It World, a global civic movement, with the goal of connecting people and organizations around the world to make the planet waste free.