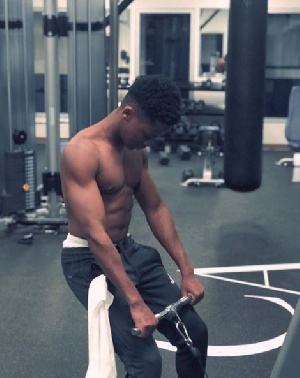 Actor Abraham Attah is all grown up now and a lot has, indeed, changed about him from when he had a stint with the movie industry.
He shared a shot of himself at the gym on April 1 on Instagram, showing off his shirtless body and six-packs to the world. The shots were perhaps taken to let everyone see the changes he has been going through in his body, even though this is not his first time of going shirtless on social media.

Indeed, the transformation is awesome, and his followers are loving him for that. His post early April had over 11,000 likes on the social platform.

The Ghanaian-born Hollywood actor got his break in 2015 film 'Beasts Of No Nation' for his lead role of child soldier Agu.

Attah was awarded the Marcello Mastroianni's best young actor award at the 72nd Venice International Film Festival and other several awards for his role.
He is currently living in the U.S. for his career and education and was in 2017 featured in Marvel film 'Spider-Man: Homecoming'.

Back at his home country Ghana, Attah has also been made an ambassador for the Free Senior High School, after having supported the policy with a picture endorsement and his quest for education.