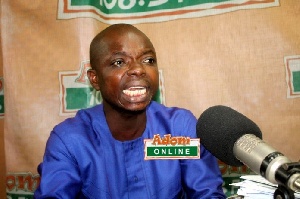 Maverick Brong Ahafo Regional Youth Organiser of the New Patriotic Party (NPP), Kwame Baffoe popularly known as Abronye DC has chickened out of his decision to contest as National Youth Organiser of the party.
In 2017, he was virtually heard on various media platforms trumpeting his achievements as the Brong Ahafo Regional Youth Organiser and unveiling his plans as the best successor to current National Youth Organiser, Sammi Awuku.

At the latter part of the year, he was seen backtracking for the simple reason he was losing out in the race following the emergence of Kamal-Deen Abdulai, Henry Nana Boakye and Dominic Eduah who have been tipped as front-runners.

Abronye DC has decided to go back to the Brong Ahafo Region and is lacing his boots to contest as the Regional First Vice Chairperson of the party.
It was in one of those campaign rounds, he was subjected to severe beatings at Atebubu by some persons believed to be supporters of the Regional Minister Kwaku Asomah Kyeremeh.

On the assumption of the current administration, the controversial NPP executive arrogated himself the powers of retrieving alleged stolen vehicles by functionaries of the previous administration indicating he was acting in accordance with some provisions in the 1992 constitution as a patriot and a private citizen.

He led a task force across the country to retrieve such vehicles but later abandoned his duties claiming the seized vehicles were returned to their owners without his consent.