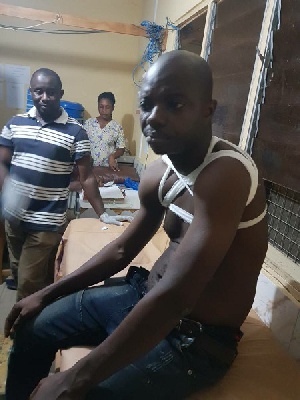 The Brong Ahafo Regional Minister, Kwaku Asomah-Cheremeh has accused the Muslim community in his region of orchestrating a life-threatening brutality on NPP's Regional Youth Organiser, Kwame Baffoe affectionately called Abronye DC last Saturday.
He was emphatic in a statement made available to Peacefmonline.com that the attack came after Abronye had refused to apologize to a Chief Imam after raining insult on him, during a radio discussion.

"Information filtering in has it that Abronye was attacked for insulting the regional Chief Imam on radio and failing to apologize after several appeals. It had nothing to do with me or anything related to me", part of the statement read.

Abronye was said to have been pounced on by some angry members – the mob vandalized his vehicle but was rescued by some good Samaritans and rushed to the hospital where he received treatment. He suffered serious injuries including a fractured arm.

However, Peacefmonline.com checks indicate that Abronye had no issues with the Muslim fraternity.

According to a reliable source, Abronye attended the funeral rites of one Alhaji Issahaku Yakubu, chief butcher of Yeji before heading to Atebubu where he was attacked.

Read below the Minister's full statement:
KWAKU ASOMAH-CHEREMEH,REGIONAL MINISTER, BRONG AHAFO.

ATTACK ON ABRONYE AND MATTERS ARISING.

The past weekend was marked by an event which nearly marred the peaceful atmosphere being enjoyed in the region.

My younger brother, Kwame Baffoe, as reported on some airwaves, had been at the mercy of some thugs when he visited would-be delegates in the Atebubu-Amantin constituency in his bid to vie for the First Vice Chairmanship position of the party in the Brong Ahafo Region.

While I was frantically trying to get in touch with the regional police command in an effort to arrest and deal with the perpetrators of that alleged assault on Abronye, much to my surprise, I heard that I was the one who had instigated and masterminded the alleged attacks on my brother.

I initially dismissed it since it wasn't coming from Abronye himself but someone who claimed to be his aide. I waited, expectantly, for Abronye DC to clear the air.
I was to be disappointed when Abronye DC granted an interview in which he categorically stated that I had ordered for him to be brutalized because the alleged leader of the gang Jafaru Yakubu is my 'boy' and that I once got him out of prison as a lawyer. Needless for me to bombard you with the other allegations made against me as a result of that incident.

Let us look at this simple logic. Assuming without admitting that I would want Abronye to be taught a lesson, why would I employ the services of my 'boys' knowing very well that I would be the prime suspect? If, I wanted something bad done to Abronye DC, I would not have hired 'thugs' always seen with me to perpetrate such an act. I would be the first person to be accused if I do that. Let me state emphatically that I have no intention to ever hurt Abronye in any shape or form. This is democracy, and as a lawyer, I fully understand its tenets and would not use such a crude methodology to bulldoze my way through.

In any event, the allegations which informed Abronye to bastardize me in public have been responded to, and in due course, the outcome will be made known to the general public.

Is it not strange that someone like Abronye would receive a call from Jafaru, threatening to deal with him if he ever steps foot in Atebubu, and he failed to record and lodge complaint to the police? One is tempted to believe that Abronye's continued efforts to denigrate me informed him to steal that incredible line into the equation.

Let me address one more misconception. I have my security detail and Jafaru is not one of them. I am in Sunyani and he is in Atebubu. That makes the point that he is part of my boys moot.

Moreover, it is true that I acted as his lawyer and got him out when he was arrested sometime ago. It can be recalled that the NDC confiscated an outboard motor belonging to the NPP prior to the 2012 elections. This happened on the Krachi water near Kajeji in the Brong Ahafo Region. The security personnel at the time would not act upon our complaint to them after six months. Jafaru and a few others were later arrested and charged for confiscating some outboard motors which belonged to the NDC. They were quickly arrested and arraigned before court, and as a lawyer and the regional chairman of the NPP then, I had to defend them and successfully got them out eventually else they would have been remanded and imprisoned.
It is instructive to note that the regional youth organizer of the NPP, Abronye, was also involved in some issues on three different occasions that I got him out as regional chairman, pro-bono. Per the logic he is advancing, then those cases I defended him over and got him out make him my boy too!

What is the fact is that since 2010, as regional chairman of the NPP, I have toured almost every constituency representing party members in courts, defending them, getting them out of trouble. I have done this for so many party members in the region without charging for services rendered. This renders Abronye's claim that because I defended Jafaru, it makes him my boy automatically quite strange.

Information filtering in has it that Abronye was attacked for insulting the regional Chief Imam on radio and failing to apologize after several appeals. It had nothing to do with me or anything related to me.

Let me not mince words. I have no hand in whatever happened to the young man. It would be foolhardy on my part to hire thugs to go after him knowing very well that I would be the one to be suspected. Please, I am appealing to Abronye and all those helping him to assassinate my character, I need peace of mind to effectively carry out the work of the government. The security persons are dealing with what happened to Abronye, and my interest is to ensure that the law enforcement agencies expedite action on the issue.

Though disturbing, I am not perturbed by such false allegations against my person and the work I do.

I wish my brother Abronye a speedy recovery. Thank you.
KWAKU ASOMAH-CHEREMEH,

REGIONAL MINISTER, BRONG AHAFO.