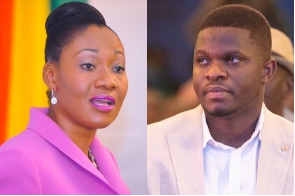 The main opposition National Democratic Congress (NDC) has insisted that the Electoral Commission (EC) and New Patriotic Party (NPP) are scheming to subvert Ghana's electoral laws with a misinterpretation of existing laws.
The NDC's Communications Director, Sammy Gyamfi, in a statement dated June 5 accused the EC and NPP of adopting a wrong approach in the matter of the choosing of a parliamentary candidate by the NPP for the upcoming Assin North by-elections.

Gyamfi said instead of the EC as referee applying both the Constitutional provision on eligibility of candidates and its own existing electoral laws, it has opted to use only the Constitution as basis for confirming eligibility.

This, the NDC described as an "absurd, unreasonable and unfounded arguments."

It stressed it is wrong for the EC is claim that "the eligibility criteria as set out in Article 94 of the 1992 Constitution on the qualification or disqualification criteria for election of a Member of Parliament is exhaustive.

"This flawed argument strangely assumes that once you are a Ghanaian of twenty-one years, of sound mind and hail from a constituency, you are qualified to be elected into Parliament. This position is not only feeble and uninformed but it grossly betrays their lack of understanding of the Electoral laws of Ghana," the statement added.
Sammy Gyamfi said the EC must apply in addition to Article 94 of the Constitution, the Public Elections Regulations 2020 (C.I. 127).

The NDC on June 4 alleged that the EC and NPP wanted to import the details of one of the parliamentary aspirants in the upcoming Assin North by-elections.

The two accused denied the allegations of collusion and in separate statements explained why the NDC's position on the matter was wrong.

Read the full NDC statement below:


Meanwhile, watch a snippet of GhanaWeb TV's latest program that focuses mainly on Everyday People below:





You can also watch the latest episode of People & Places on GhanaWeb TV:




Meanwhile, watch the latest episode of SayItLoud on GhanaWeb TV below:






SARA