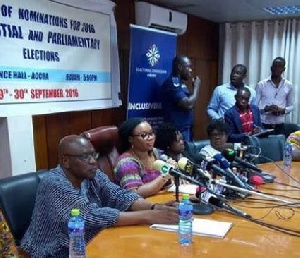 The beleaguered chief accountant of the Electoral Commission (EC) Kwaku Owusu Agyei-Larbi has refunded to the chest of the EC an amount of GH¢436,402.00 handed him for safe keeping.
This was after he was reinstated as the election management body's chief accountant.

Mr. Agyei-Larbi was in July 2017 asked to proceed on leave by EOCO in the heat of the impasse at the EC, to allow for an investigations of embezzlement of some endowment funds of the Commission.

The impasse led to the impeachment of the chairperson of the Commission Charlotte Osei and her two deputies for "misbehavior and incompetence", pursuant to Article 146(1) of the Constitution.

Their dismissal was after the Committee set up by the Chief Justice, Justice Sophia Akuffo, pursuant to Article 146(4) of the Constitution, to investigate separate complaints brought against the three persons by Ghanaian citizens, recommended their removal from office.

On page 34 of the report of the Chief Justice's Committee that recommended the removal of the EC Chair and her two deputies, it was also submitted that Mr. Owusu – Larbi, be made to pay to the Commission the amount of GH¢ 360,000.00 he admitted had been in his custody in his office since 2016. If he is not able to pay the said amount to the EC, we recommend that he is charged with stealing."


In a petition dated July, 3 2018 to the presidency Mr. Agyei-Larbi stated his readiness to swiftly comply with the report of the Chief Justice's Committee dependent on his immediate reinstatement.

Subsequent to the petition, EOCO wrote to the Electoral Commission on July, 9 2018 directing the Commission to recall Mr. Agyei-Larbi and he has since refunded the money in his custody after fully resuming work on Wednesday, July 11, 2018.

In a letter dated Thursday July 12, 2018 to the Presidency Jerry John K. Asiedu, lawyer for Mr. Agyei-Larbi said "Subsequent to the above developments our client has retrieved from the safe in his office an amount of GHC 436, 402 with the approval of the Human Resource Director of the Electoral Commission to pay same into the EC IGF account at GCB bank. Attached hereto and marked "C" is a copy of memo endorsed by the Human Resource Director.


"He has paid the amount of GHC 436, 402 into the designated IGF account of the Electoral Commission at the GCB Bank on the 11th day of July, 2018. Attached hereto and marked "D" is a copy of the GCB Bank Receipt as evidence of the payment into the account by our client.

"Under the circumstances, it is evident that our client has fully complied with the recommendations of the report of the Chief Justice's Committee which was referred to your high office for implementation. Our client therefore humbly requests that this is brought to the attention of the Attorney General and all other necessary agencies tasked with the implementation of the Committee's report."