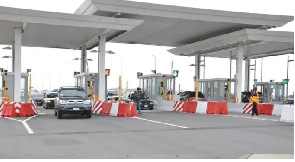 The Concerned Drivers Association of Ghana (C-DAG) has welcomed a decision by the Ghana Highway Authority to demolish toll booths on the Accra-Tema Motorway.
The association which had given government an ultimatum to demolish the toll booths or else it would do it on government's behalf, however, questioned why it had to take this long for the decision to be arrived at.

Despite the decommissioning of the toll booths, they have been left on the roads.

On the Accra-Tema Motorway, drivers and motorists have complained about the inconvenience caused by the toll booths, due to the traffic situation and the incidents of road accidents.

Speaking to Valentina Ofori Afriyie on 12Live on ClassFM, Friday, September 7, 2023, the Public Relations Officer (PRO) of the association, David Agboado quizzed: "Why should they wait till this long for this motorway to become a canker."

He however commended government for the decision.
The association further wants government to quote and publicise the amount involved in the demolishing exercise so Ghanaians can be in the known.

The PRO added: "We are happy we're doing the right thing and the needful."

The C-DAG wanted the government to either demolish all tollbooths across the country or resume the collection of road tolls immediately.

The association said it is "alarmed" by the rampant accidents being reported at the various toll booths which are currently not functioning.

A statement issued by the association, on Tuesday, 5 September 2023, and co-signed by its Deputy National Secretary, Nana Oweredu and its PRO, David Agboado, noted: "No measures have been put in place to control traffic flow at the various booths since they were decommissioned over a year ago."
According to the association, "the Kasoa and Motorway toll booths have recorded the most dangerous and life-threatening accidents and just Sunday 3rd September 2023, another one occurred at the Tema toll plaza."

It, therefore, urged the government to, "as a matter of urgency, demolish all those tollbooths or take steps to decommission them according to this year's budget statement presented by the finance ministry."

It added: "Failure on the part of the government to do any of these may cause us to carry out the demolition by ourselves as we can't afford to put our lives at risk in the line of contributing to national development."

Watch the latest edition of BizTech below: