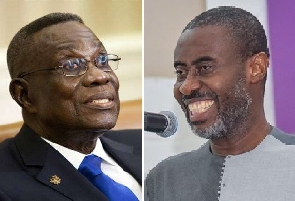 Private legal practitioner, Ace Anan Ankomah has spoken about his academic and professional relationship with Ghana's former president John Evans Atta Mills.
Ace, speaking highly of the late president disclosed having been a former student and later Teaching Assistant (TA) to the late tax and law professor.

In an interview on Citi FM's Foot Prints personality talk show programme, the one-time lecturer at Ghana School of Law stressed that Prof Mills was one of many reputable academics and lawyers who taught him in the early nineties when he enrolled into law school.

"I ended up teaching some of the courses of my most favourite professors. President Mills was my Commercial Law teacher, I taught Commercial Law with president Mills, I was a Teaching Assistant in 1992, 1993.

"So, I worked closely with him on revising the course and everything…," he stressed.

Ace Ankomah also revealed that he was once called to teach a particular course at the Law School but he later got to know that it was on the advice of Prof Mills (then Vice President) that he was handed the course.
"I taught Commercial Law as his TA, you know when Prof Mills left Legon to become Vice President, I understand on his recommendation, they called me to come and teach Company Law.

"So, I went to replace Prof Mills in the Business School teaching Company Law, it must have been in 1997," he recounted.

Prof Mills served as Ghana's Vice President between 1997 and 2001. He was elected president eight years later in 2008 having lost two earlier bids in 2000 and 2004.

He was a celebrated law lecturer and tax expert having served once as the head of the Internal Revenue Service prior to his ascension to the office of vice president. He died in office and was replaced by his then vice, John Dramani Mahama.

SARA