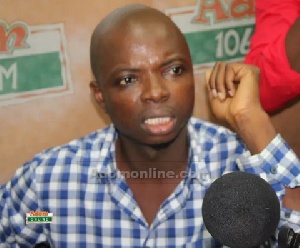 The Brong Ahafo regional Vice Chairman of the ruling New Patriotic Party (NPP), Kwame Baffoe aka Abronye DC has described the economic analysis provided by the Bolgatanga Central MP, Albert Adongo, as one which is only fit for selling dog meat in the Bolgatanga market.
According to Abronye DC, the man who claimed he was countering the analysis provided by the Vice President, Dr Mahamudu Bawumia, offered no meaningful analysis to the media.

Speaking on Oman FM, he said: "All the analysis offered by Adongo are ones fit for selling dog meat at Bolgatanga market not for managing an economy like Ghana's."

Isaac Adongo led the economic team of the NDC to present a statement which they claimed was a reaction to the outcome of the Town Hall meeting organised by the Economic Management Team (EMT).

The NDC's Economic Lecture Series was organised to deal with what they said were some misleading facts and patent misstatements laced with populist rhetoric by Dr Mahamudu Bawumia, the head of the government's Economic Management Team (EMT).

The Town Hall meeting was organised by the EMT in Accra on Wednesday to respond mainly to criticisms on the depreciation of the Cedi.
In a statement issued after the government's event, the General Secretary of the NDC stated that the Finance and Economic Team of the NDC through its leader, Isaac Adongo, will take advantage to address the numerous distortions and lay bare the true facts of the state of the Ghanaian economy.

The NDC's Economic Lecture Series was held at Mensvic Hotel on April 4, 2019.