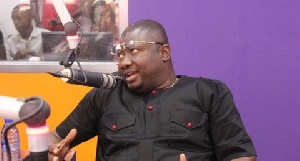 Former Adentan Member of Parliament (MP), Kojo Adu-Asare, left the Trade Fair Centre, venue of the National Democratic Congress (NDC) disappointed following the disappearance of his name on the ballot papers for the deputy General Secretary position.
Mr Adu-Asare, popularly called Swagger, is said to have threatened to quash votes garnered by Peter Boamah Otukonor and Barbara Serwaa.

Adu Asare's name was replaced with an unknown person Justice Yeboah with his picture, therefore creating confusion in the minds of the delegates.

He attributed his inability to win to the change of his name.

The former MP was caught on camera shedding tears about the misfortune that befell him.

At the congress, two persons highly tipped to lead the organization of the National Democratic Congress (NDC) for the next general elections, former Member of Parliament (MP) for Akwatia, Mohammed Baba Jamal Ahmed and former National Organiser, Yaw Boateng Gyan, lost miserably to Joshua Hamidu Akamba, a candidate backed by John Mahama, who won the National Organiser slot.

Baba Jamal, who was Akamba's close contender, had 2,107 votes followed by Yaw Boateng Gyan who garnered 1,843 votes.
Mahdi Gibrill also had 599 votes, Solomon Yaw Nkansah, 306, Jemima Anita De-Sosoo, 300 and Enoch Amoako-Nsiah, 74.

For the national chairmanship position, Samuel Ofosu-Ampofo polled 3,656 votes, beating his closest contender, Dan Abodakpi, allegedly sponsored by Mahama, who had 2,199 votes.

Other contestants such as Alhaji Huudu Yahaya, Danny Annang, Betty Mould-Iddrisu polled 1,827, 309 and 363 votes respectively.



Ex-convict, Godwin Ako Gunn, a member of the infamous Montie 3 contemnors, who were jailed for threatening to kill some justices of the Supreme Court on a political talk show, was elected as a deputy communication officer alongside Kwaku Boahen.

They beat four others- Adongo Atule Jacob, who got 978, Mahama Seidu Samuel, 573, Muhammed Nurullah Iddrisu, 473 and Alhaj Mohammed Nasiru Seidu, 1,637.
The two victors, Kwaku Boahen and Ako Gunn, polled 2,857 votes and 1,816 votes respectively and they are expected work with the National Communication Officer, Sammy Gyamfi.

Meanwhile, the fresh lawyer, Samuel Gyamfi, was elected as the National Communication Officer after he convincingly kicked out Fred Agbenyo in what many believed was going to be a tough battle.

Sammy Gyamfi polled a total of 6,225 votes, as against Fred Agbenyo's 2,069.

In the National Zongo Caucus Coordinator contest, Ismail Bawa won with 1,132 votes against Sadiku Sulley, 785, Abdul-Aziz Mohammmed, 1,321 and Abass Fuseini Sbaabe, 1,011.



Agbesi Nutsu lost abysmally in the National Deputy Organiser contest.
Kobby Barlon and Chief Hamilton Biney Nixon won the election when they garnered 2,619 votes and 2,405 votes respectively compared to Dr Alhassan Hanifa's 1,386, Vivian Abla Kpeglo's 610, Mohammed Mamudu's 347 and 331 votes managed by Agbesi Nutsu.

Other losers were Alfred Kojo Triddles, 89, Ebenezer Asare Sackitey, 163 and Ahmed Gedel 329 votes respectively.

Chief Biney and Kobby Barlon are expected to help the National Organiser to challenge the NPP in the 2020 polls.

Former NDC Northern regional Chairman, Awudu S. Azorka, also won one of the three slots for the National Vice Chairperson.

He is expected to lead the vigilante group 'Azorka Boys' at the party's national level.

Over 9,000 delegates of the NDC converged on the Fantasy Dome, Trade Fair Center, Accra, for the election.
The congress, which last for almost three days, has been described by many as the longest congress by any political party in the country.

A total of 65 candidates vied for the various party positions.