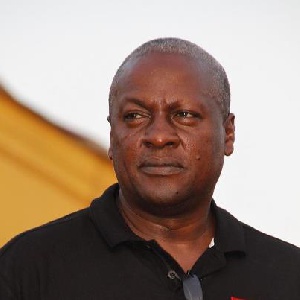 Mon, 26 Nov 2012 Source: radioxyzonline
President Mahama has challenged traditional leaders and other stakeholders in the country to call on the main opposition NPP and its Flagbearer Nana Akufo Addo to back down on what he describes as the party's warmongering posture ahead of the elections.
The President says recent comments by some leading members of the NPP are indicative of their unwillingness to be committed to peace in the December elections.

President Mahama made the comments at Agogo in the Ashanti region where he is touring.
"It is true that all of us have been preaching peace wherever we find ourselves, we are all sons and daughters of the land so as elders I appeal to you to advise our opponents because they are those declaring the all die be die slagans and also saying that Ghana would turn to Afghanistan if they don't win the December polls.

"We don't want any chaos in the country, so I am calling on you all to remain calm because the Lord has given us victory already in the upcoming elections" President Mahama said.
Source: radioxyzonline