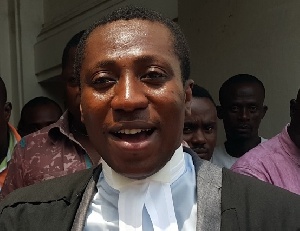 Member of Parliament (MP) for Effutu in the Central region, Alexander Afenyo-Markin has justified series of legal actions against former authorities at the University of Education (UEW).
Afenyo-Markin who was the legal counsel for the plaintiff Supi Kwayera whose actions led eventually to the dismissal of the former Vice-Chancellor Prof. Mawutor Avoke and five other senior administrative staff, indicated that the court action was already yielding the necessary dividends for the local Winneba community whose interest the plaintiff and himself were seeking.

According to him, the new Vice-Chancellor had already started providing job avenues to residents to ease the economic pressures on them.

While urging the residents to make good use of the opportunities being offered them, Afenyo-Markin indicated that his office will not stop the court processes until the Winneba community derives maximum benefits from the university.
He also slammed critics who posited that the court action amounted to tribal-witch hunt stressing that the Winneba community is a cosmopolitan one where tribal tendencies are eschewed as he even has his roots from the Volta Region.

He was speaking at a durbar of chiefs at Winneba to mark the end of the President's four days tour of the Central Region.