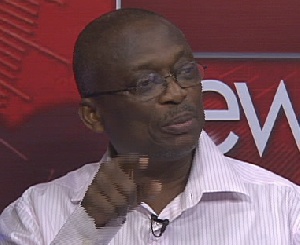 Editor- in-Chief of the New Crusading Guide newspaper, Mr. Kweku Baako, has said the suspended national chairman of the opposition New Patriotic Party (NPP) Paul Afoko lost sympathy due to the poor strategy he earlier resorted in overturning his suspension.
He explains there was no way the embattled chairman would have sustained sympathy from the elephant family after he [Afoko] blatantly disregarded party structures in his attempt to reverse the decision taken on him.

"…You knew after all you were going to activate the party's internal mechanisms to contest the decision of the National executive committee which was based on the recommendation of the National disciplinary committee… so all those earlier cowboy type of tactics didn't bring a critical mass sympathy for him, he miscalculated it politically," Mr. Baako stated in a discussion on Joy Fm's News file Saturday.

Baako fears his fight against the party's decision even in court will not yield any meaningful results.

"Purely from a political angle, he's lost the war-what is left is some small small battles for him to fight and it won't end up in a victory for him. It is clear because of his own passion and conduct from day one," he stressed.
Afoko filed his petition to the National Council, the apex body of the NPP after congress to appeal against constitutional breaches that led to what he described as the usurpation of his post, but failed in his bid.

An overwhelming majority voted to affirm the decision to suspend Afoko.

He says the next option for him is to seek redress in court.