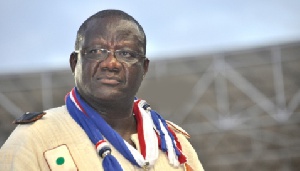 Suspended National Chairman of the main opposition New Patriotic Party, Paul Afoko, is livid about the decision to axe him indefinitely from his role.
In a post on his social media pages on Friday, Afoko, who sought to appeal the decision to suspend him but failed in his bid after the Party's National Council voted unanimously against him, took to Facebook and Twitter to pour out his frustrations.

"I'm sad, hurt, angry, mad and disappointed….but you know what? I will put on a smile. God is in the middle of the storm. It is well."

70 individuals yesterday voted to uphold the decision to suspend him, with one voting in his favour while five abstained at a special exercise held all day at the Party's headquarters in Accra.
Afoko's latest comments should set the tone for a grand showdown between him and the National Council.

While persons close to Afoko have told us he may seek redress in court; others feel it will be a sheepish attempt at a fight already lost.