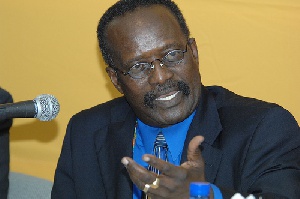 Tue, 8 Apr 2014 Source: GNA
The Minister of the Interior, Kwesi Ahwoi, has said West Africa has the potential of becoming a terrorist region if conscious efforts are not made to destroy terrorist sects in the continent.

He said terrorist sects operating in the sub-region including Asar Dine in Mali and Boko Haram in Nigeria were reminders that the West African region was not insulated from terrorism.


Mr Ahwoi made the observation in a speech read on his behalf by his Deputy, James Agalga, at a Regional Workshop on Asset-Freezing Requirements of the United Nations Security Council Resolution (UNCR) 1373 (2001).


It is being organized by the Inter-Governmental Action Group against Money Laundering in West Africa (GIABA) to discuss Ghana's obligation under the UNSCR 1373 on freezing or seizure of assets belonging to terrorists for the purposes of preventing, suppressing and the financing of terrorist acts.


Participants from Ghana, Nigeria, Sierra Leone and the Gambia are taking part in the three-day workshop.


The UNSCR 1373 (2001) was to combat acts of terrorism by placing barriers to movement, organizing and funding of terrorist groups.

The Minister said globalization had made all countries no less immune to the threats of money laundering and terrorism, saying that, Ghana was not an exception and that called for international and regional cooperation in focusing more attention to the security threats of the respective countries.


Mr Ahwoi pointed out that a study conducted by GIABA in 2011 to rate the compliance level of member states with the UNSCR 1373, indicated either partial compliance or non-compliance.


He said: "However, efforts have been made by member states to enact laws and adopt other measures to conform to international standards in dealing with terrorism.


"Ghana on her part made some strides in 2008 by enacting the Anti-Terrorism Act, 2008 (Act 762) and proceeded further to amend this Act by enacting the Anti-Terrorism (Amendment) Act, 2012 (Act 842) to conform to the international best practices. The Anti-Terrorism Regulations, 2012 (L.I. 2181) was also enacted to operationalize Act 842."


According to him, other legislations enacted included the Immigration (Amendment) Act, 2012 (Act 848), Criminal offences (Amendment) Act, 2012 (Act 849) and the Economic and Organized Crime office (Operations) Regulations, 2012 (L.I. 2183), as well as E.I. 2, (2013).

The Minister said those laws demonstrated Ghana's commitment to the fight against money laundering, financing of terrorism and the proliferation of weapons of mass destruction and other transnational organised crimes.


Mr. Ahwoi stressed the need for international support and the establishment of network of intelligence sharing, consistent with Asset Recovery Interagency Network (ARIN) of the European Union and ARINSA in the Southern Africa region. He noted that unfortunately, the West African sub region was the only region in the world that was yet to have such an arrangement in place.


"I therefore admonish GIABA to expeditiously liaise with other development partners like United Nations Office on Drug and Crime (UNODC), and United Nations Counter Terrorism Executive Direction (UNCTED) to have one in place," he said.


The Minister noted that there were few challenges that bedeviled Ghana on its fight against terrorism in the country and probably on the sub region as well.


These challenges, he said, included lack of international and regional cooperation in the sub-region and frustrations regarding mutual legal assistance requests from some of the international partners, the use of cash in transacting businesses in the sub region which makes it difficult to track suspected terrorists and money launderers.

The rest are the lack of coordination and cooperation among law enforcement agencies with its attendant turf wars and unwillingness to share intelligence. Mr Ahwoi, therefore, assured the participants of Ghana's preparedness to collaborate and support other member states in fighting such crimes and other transnational organised crimes.


The Chief Executive Officer of Financial Intelligence Centre , Mr Samuel Thompson Essel, , said the workshop was a platform and opportunity to strike acquaintances for effective domestic inter-agency as well as regional cooperation.


He urged participants to build the necessary confidence and trust in one another through interactions to lay necessary foundations for cooperation and coordination for the effort and resolve to defeat terrorism in the sub-region and the world at large.

Source: GNA