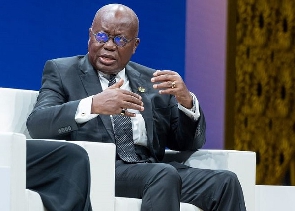 Fri, 26 May 2023 Source: GNA
President Nana Addo Dankwa Akufo-Addo has called on African leaders to foster intra-trade partnerships to ensure sustainable economic growth for the continent
He said it was imperative that the countries took advantage of the African Continental Free Trade Area (AfCFTA) Agreement to guarantee food and economic security.

The President made the call when he addressed the opening of the Seventh African Leadership Forum (ALF) in Accra on Thursday.

Ghana is hosting this year's ALF on the theme: "Promoting Intra-Africa Trade to Unlock Agricultural Potential in Africa."

It aims to highlight the continent's agricultural potentials and opportunities emerging from climate change, discuss the obstacles, as well practical and realistic requirements for implementing the AfCFTA.

The agenda is to identify priorities and a roadmap for implementing the agricultural trade perspective under the Agreement to realise its transformative economic objective.
Some eight former African Heads of State, including Nigeria, Sierra Leone, Benin, Liberia, Tunisia, and Tanzania are participating in the Forum.

A cross-section of stakeholders in the continent's development, comprising technocrats, policymakers, agricultural scientists and small-holder farmers, business entities, and development partners, are also attending.

President Nana Addo Dankwa Akufo-Addo said the AfCFTA Agreement was a momentous change, stressing that it presented the African people with more opportunities in doing business for the continent's progress.

It sets the stage for Africa's industrialisation and growth.

The President said the time had come for the continent to define its own narratives in respect of producing enough to feed its people.
This was achievable given the continent's vast arable land and natural resources, he noted.

President Nana Akufo-Addo was optimistic the Forum would help the participants to share experiences and lessons on the obstacles (internal and international) in maximising the continent's agricultural potential.

He was of the view that no country could afford to go it alone, saying "Our strength lies in our numbers".

Establishing food security, the President noted, was important for millions of people facing hunger in Africa, and crucial for sustainable economic development and the long-term prosperity of the continent.

He stressed the need for the continent to work assiduously in adding value to its agro-based products to enhance exports, accelerate Gross Domestic Product growth and create new jobs, insisting that it was imperative that African leaders demonstrated bold leadership by adopting the right policies to ensure robust African trade.
Dr. Jakaya Mrisho Kikwete, former President of Tanzania, and an ALF Patron, called for renewed commitment to the tenets of the AfCFTA Agreement.

The AfCFTA is one of the flagship projects of Agenda 2063.

It is an ambitious trade agreement, with a comprehensive scope that includes critical areas of Africa's economy, such as digital trade and investment protection, amongst other areas.

By eliminating barriers to trade in Africa, the objective of the Agreement is to significantly boost intra-Africa trade, particularly trade in value-added production and trade across all sectors of Africa's economy.
Source: GNA
Related Articles: