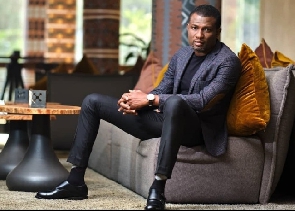 Deputy Minister of Tourism, Arts and Culture Mark Okraku-Mantey has said Nigeria is reaping from the hardwork of Ghana and other African nations because of the 'Afrobeats' name given to all music coming out of Sub-Saharan Africa.
The famed music executive and politician said this on Accra-based Joy FM morning show, Tuesday, March 7, 2023.

Mr Okraku-Mantey cited an instance in Dubai where a shop attendant mistook Ghanaian Highlife star Bisa Kdei for a Nigerian.

"The man was Moroccan and he thought the music was [from] Nigeria," he said.

"And I have experienced a lot of these things where Ghanaian hard work is going to Nigeria," he added, explaining that it is the case: "Because [Nigeria] make so much noise such that there is a perception [that] every music you hear from Africa is from Nigeria."

Mr Okraku-Mantey opined that Ghana made "a mistake... accepting that we are also performing under [the] Afrobeats [genre]."

Furthermore, he asserted that the very name, Afrobeats, in plural form, readily reminds the world of Nigerian Fela Kuti's Afrobeat legacy.
"The word Afrobeat itself was coined by Fela Kuti years ago, without an "s". So the moment you hear Afrobeat, the owner of that word is Fela. Then overtime, the West said Africa has too many rhythms so why don't you call all of them African rhythms?" he stated.

In Mr Okraku-Mantey's opinion, Nigerians were quick to adopt the Afrobeats name for their music to cunningly distinguish their music from Ghana's and position themselves competitively.

"Because we [Ghanaians] were known for Highlife and we were bullying them [Nigerians] with our Highlife, quickly they opted for the Afrobeats," he said.

"Unfortunately, my [Ghanaian] brothers and sisters went to join them," he stressed. "They don't know that all their hard work is actually going to Nigeria because [of] the perception about Afrobeats [and] Nigeria."

He buttressed his point with another anecdote.

"I heard Camidoh's song in Tanzania, Arusha, and people around thought it was from Nigeria," he narrated. "And that is why Nigeria is getting the buzz they are getting. Everybody is thinking that almost at the music you hear from Africa now are from Nigeria."