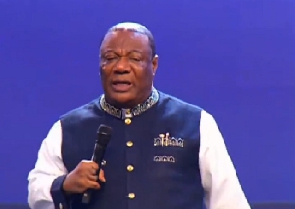 Founder of the Action Faith Chapel International, Archbishop Nicholas Duncan-Williams has declared how long he will live on earth.
He told a packed congregation at the 2022 31st Watchnight service in Accra that he has 35 more years to live on earth after which he will determine whether he wants to continue living or return to his maker.

He was delivering a sermon that bordered on the need to continually take stock of one's life and also to plan for the remainder of one's life on earth.

"Every year, you are losing. You are losing the years. I am 65 and I will live (till) 100 years. Yeah, I am going for a 100. You can look at me any way and say nothing, but I say 100. Amen.

"At 100, I will determine whether I will stay or leave… if I will live a 100 and I am 65, how many more years do I have to go?

"So, I have spent more years than what I have left and so many of you have spent more years in this life than you have left to live. And what have you done with the years you've spent comparing to the years left for you," he stressed.
Most Ghanaians entered the year engaging in either Watchnight services in places of worship dotted around the country or at entertainment joints to welcome the New Year.

Ghana had a torrid 2022 amid an economic crisis that forced government to seek an International Monetary Fund facility at a time the cedi was rapidly depreciating, inflation was galloping and government was faced with multiple downgrades by rating agencies.

The government has serially blamed the crisis partly on the aftershocks of the COVID pandemic and the ongoing Russia-Ukraine war.

It has promised, however, to turn around the economic fortunes of the country after sealing a Staff-Level agreement with the IMF with the hope that funds from the US$3 billion facility will be released early this year.

SARA