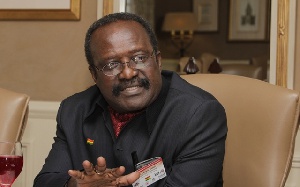 Former Minister of the Interior, Kwesi Ahwoi has criticised the governing New Patriotic Party (NPP) over its absence at the commemoration of the 5th anniversary of the death of former President John Evans Atta Mills.
At a service and wreath-laying ceremony at the Asodwee Park in Accra where the late Professor was buried, Mr Ahwoi told Class91.3FM's Kwesi Parker-Wilson on Monday, July 24 that people treated the event "as if it is political party organisation but it should not be".

He expressed disappointment indicating that the late Professor who died in 2012 while in office was the leader for the whole nation and not just a small group of individuals and, therefore, it was bad for other political parties to have treated the anniversary with disdain.

"I am very disappointed; the organisation itself has nothing political about it. Look at the brochure, no political colours, the national council of Christian churches was all here but what is happening to the other political parties? Where are they? What message are we sending? That Prof didn't belong to the country? That he belongs to a party? I disagree totally and I am very sad for this development. We are politicising many issues in this country even the death of a leader of this stature," he stated.

According to Mr Ahwoi, even though he has a different political ideology, it would be wrong for him to neglect the burial service or anniversary of a President from the NPP.
"If my senior, senior Kufuor, President Kufour dies, I should not be there because I don't belong to his party?" he questioned.

He continued: "He is my school mate at Prempeh College. He is my respected leader, I worship him, I will be there, not because of the school mate relation but because he was the leader of a country called Ghana to which I belong and I will do the same for every leader, Jerry Rawlings, Akufo-Addo, for all of them and that is me. I don't like what I see here as if Prof Mills didn't matter to the rest of society and only matter to NDC".