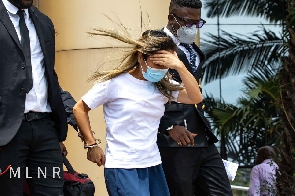 En Huang, also known as Aisha Huang, the Chinese facing trial for her alleged involvement in illegal mining, has admitted in the Accra High Court that one of the objectives of her company was to engage in mining activities.
She said this during cross-examination, as reported in the Daily Graphic Newspaper on July 20, 2023.

The Director of Public Prosecutions (DPP), Yvonne Atakora Obuobisa, questioned Aisha about her company, Golden Asia Company Limited, and its registered objectives.

The accused confirmed that mining was listed as one of the objectives; however, she clarified that while her company was involved in various activities, the mining objective was not actively pursued.

The DPP also raised concerns about Aisha operating a supermarket without the appropriate permit between 2013 and 2018, but Aisha responded, "I did not know."

The DPP further suggested that Aisha had a good command of the Twi language and interacted with farmers in the Amansie West District, but Aisha disagreed, denying any significant knowledge of the language.

"I put it to you that you knew you were not allowed to work in Ghana till you got an indefinite resident permit, but you operated a supermarket," the DPP asked Aisha who was seated in the witness box.
But Aisha did not agree with the DPP in her response which had no explanation.

During the cross-examination, Aisha indicated that she possessed two passports with different dates of birth: November 7, 1986, and July 7, 1975.

She explained that in Chinese culture, it is customary to have two dates of birth due to the Chinese 'Lunar' calendar.

"In the Chinese culture, we normally have two dates of birth because of the Chinese calendar," Aisha Huang told the court.

She clarified that her actual date of birth was 1986, dismissing any implication of double identities linked to her alleged involvement in illegal mining.

The case has been adjourned to Monday, July 24, 2023, in the court presided over by Justice Lydia Osei Marfo, where further proceedings and cross-examinations will continue.
Background

The trial involving the galamsey 'queen' began on June 6, 2023. The case has three other persons who are said to be accomplices of Aisha Huang in the alleged illegal activities in the country.

The accused persons are: Li We Guo, and Shi Mei Zhi both Chinese and Nana Kwame Opoku, alias Obolo.

Whilst Li Wei Guo (1st Accused) and Shi Mei Zhi, (2nd Accused) who are partners, are facing a charge of undertaking a mining operation without a license and false representation in obtaining a resident permit.

Li Wei Guo, the 1st Accused is also facing the charge of false representation in obtaining a work permit.

Nana Kwame Opoku alias Obolo is separately charged for facilitating the participation of non-Ghanaians in an illegal mining operation.
NW/OGB

You can also watch the latest episode of Everyday People below



You can also watch this episode of People & Places on GhanaWeb TV:




Share your news stories and ideas with GhanaWeb




To advertise with GhanaWeb