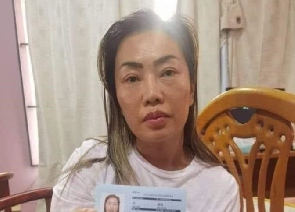 Sat, 6 May 2023 Source: GNA
En Huang aka Aisha Huang has pleaded guilty to entering Ghana while prohibited from re-entry contrary to section 20(4) of the Immigration Act, 2000, Act 573.
Initially, she denied the charge but on Wednesday, May 3, 2023, she changed her plea to guilty.

Aisha, a Chinese, on September 2, 2022, was arrested in Kumasi and found to have re-entered Ghana after she had been barred from entering the country.

An Accra High Court convicted the accused on her own plea.

Mrs Justice Lydia Osei Marfo, the presiding judge, convicted the accused person and deferred the sentencing to the conclusion of the trial since there were three other charges against her.

Aisha Huang has also been charged with undertaking a mining operation without a licence, facilitating the participation of persons engaged in a mining operation and the illegal employment of foreigners.
The prosecution, after calling 11 witnesses, closed its case.

The court then ordered the lawyers for the accused person to file their submission of no case by May 16, 2023, and serve same on the prosecution.

The prosecution has also been instructed to respond on the submission of no case by May 24, 2023.

The court adjourned the trial to May 25, 2023.
Source: GNA