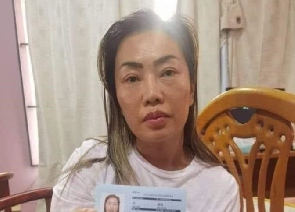 An officer of the Ghana Immigration Service (GIS), Superintendent Divine Ahumah Ocansey, who is the 11th prosecution witness in the trial of Aisha Huang has accused her of forging a marriage certificate to acquire permits.
According to him, this was done to obtain a residential permit in the country as wife of Ghanaian, Anthony Fabien, graphic.com.gh reports.

Superintendent Ocansey told the Court that the accused, who is also known as En Huang, was admitted into the country on May 28, 2010, with a 30 days visitor's visa.

The witness also said that until November 25, 2010 when Aisha obtained a dependent permit as the wife of Mr. Anthony Fabien, she had travelled in and out of the country on visitor's visas.

"The dependent permit, he said, restricted the accused from working in the country but was renewed on April 28, 2015, when she obtained an indefinite residence permit as the wife of Anthony Fabien.

"The 11th witness added that En Huang conducted mining operations at Bepotenten where she engaged the services of Lu Qi Jun, Gao Jin Cheng, Habin Gao and Zhang Zhipeng to mine at the mining site where the four Chinese nationals were arrested by the Obuasi GIS District Command on May 5, 2017," graphic.com.gh reported.

Aisha Huang is facing four charges namely; undertaking a mining operation without a licence, facilitating the participation of persons engaged in a mining operation, illegal employment of foreign nationals, and entering Ghana while prohibited from re-entering.
She has pleaded not guilty and has since been remanded into prisons custody while the trial is ongoing.

The witness also revealed that Aisha peddled falsehood after she claimed that she was not into illegal mining but rendering mine support service concession at Bepotenten.

"Following the arrest of En Huang, the process leading to her acquisition of the indefinite residence permit was reviewed and it was found that most of the documents supporting her application like the Ghana passport biodata pages of Anthony Fabien and the marriage certificate of her alleged marriage to Anthony Fabien were forged.

"The Passport Office of the Ministry of Foreign Affairs and the Births and Death Registry, Accra, did not have any records on the accused person's husband, Anthony Fabien," graphic.com.gh. quoted the witness as having said.

YNA/WA