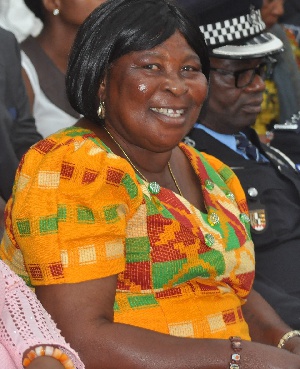 A group called the Volta Youth for Development has accused President John Mahama and the governing National Democratic Congress of being ungrateful to the people of the Volta Region, a region the NDC considers as its electoral World Bank.
The group, in a statement, accused Mr Mahama of choosing the leader and founder of Ghana Freedom Party, Akua Donkor, over Voltarians.

According to the group, the total cost of gifts given to Akua Donkor by Mr Mahama – which comprised a Mitsubishi Pajero, one Mitsubishi L200 Pick Up, and a four-bedroom apartment at Sakumono Estates – could have been used to construct boreholes and Community-based Health Planning and Service (CHPS) compounds for some communities in the region at a lower cost.

The group has, therefore, questioned if Akua Donkor is more important than Voltarians.

Read full statement below:

IS AKUA DONKOR MORE IMPORTANT THAN VOLTARIANS?

Volta Youth for Development (VYD) has consistently pushed the claim that President Mahama and his NDC government have continuously considered Voltarians in and out of the Volta Region and the Region itself less important and as a result starved them of what they and the Region rightly deserve.

The most annoying part is the President and his NDC-led government's intentional and consistent consideration of people and regions whose activities have been zero towards the survival and growth of the NDC party over Voltarians and their region, and one such example is the president's gift of cars and a house to Akua Donkor over the demands of Voltarians.

Our research has revealed that Madam Akua Donkor has consistently made it clear on most media platforms that due to how charitable, kind and caring President Mahama is, he has given her one Mitsubishi Pajero, one Mitsubishi L200 Pick Up and a four-bedroom apartment at Sakumono Estates aside from the many goodies he has given her in the past for her continued support of him.

Our further checks revealed that the total value of the two cars and the house is GHS786,000.

Breakdown of the cost of the gifts:
1 USD=4Gh Cedis

Four-bedroom apartment at Sakumono Estates = GHS478,000

Mitsubishi Pajero =$55,000, which is GHS220,000

Mitsubishi L200 Pickup =$22,000, which is GHS88,000

Total = GHS786,000

Moreover, our research in the Volta Region has also revealed that majority of towns in the region are very much in need of basic stuffs such as CHPS compounds and potable drinking water.

As a result, majority have to travel long distances for medical assistance and also for clean water or depend on rain water or water from polluted rivers for drinking, cooking and bathing.

The breakdown and total value of the demands of some of the areas we researched are as follows:

Cost of one borehole = GHS12,000

Cost of one CHPS compound = GHS180,000
Adaklu District's current source of water is Tordze river (polluted)

Number of boreholes needed 10. 10x12,000 = GHS120,000

Drovukope in Akatsi South

Current source of water is rain water or water from Agbedrafor, which is 30 kilometres away

Number of boreholes needed is 12. 12x12,000= GHS144,000

Amedzofe town

Number of boreholes needed is 10

10x12,000=GHS120,000

Current source of water for Asukawkaw town in the Biakoye constituency is Asukawkaw river (polluted)

Number of boreholes needed is 8
8x12,000 = GHS96,000

Nyitawuta village in Anlo constituency: Residents cross river Anyanui to either South Tongu constituency or Anlo constituency for medical assistance.

Solution: one CHPS compound in the village

Cost of a CHPS compound is GHS180,000

The total value of all the projects needed by these five areas is equal to GHS660,000.

ANALYSIS

A comparison of the total value of items given to Akua Donkor, which is about GHS786,000, and that of the total cost of the projects needed by these five towns, which is GHS660,000, to help better the lives of the thousands of Voltarians and non-Voltarians living there shows that Akua Donkor's gifts alone are far expensive than the cost of all the projects needed in these towns.

Conclusion

The above shows that the NDC and President Mahama have been very wicked and ungrateful to Voltarians, especially considering their continued loud cry for such basic needs despite their loyalty.

Thank you.
........SPOKESPERSONS.......

Innocent Supremo Tetteh (Converner)

Nana Kwadwo Akwaa (Writer)

Godwin Kwami Nanedo

Madam Kiki

Prosper Fofo Ndekor

Elorm Dedziasa