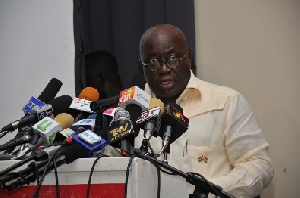 The Youth Enterprise Support (YES) programme is another vehicle for diverting Ghana's resources, flagbearer of the main opposition New Patriotic Party (NPP), Nana Akufo-Addo has said.
Mr Akufo-Addo said at the 15th anniversary celebration of the Tertiary Students Confederacy (TESCON), at the Mensah Sarbah Hall of the University of Ghana, Legon, on the theme: "NPP Youth – Today, Tomorrow," that most social intervention programmes crafted by the Mahama administration – including YES – have been used to siphon state funds into private pockets.

"We have seen this in bodies like GYEEDA and SADA, which were ostensibly set up to stimulate growth and to provide jobs for young people.

"They became vehicles of corruption. So, too, it appears is the latest body, YES (Youth Enterprise Support), in which high ranking officials are already engulfed in allegations of corruption," he alleged.

YES is a multi-sectoral initiative operating under the Office of the President and drawing collaborative support from key agencies including the National Board for Small Scale Industries (NBSSI), National Youth Authority (NYA), Ministry of Youth & Sports, Ministry of Trade & Industry, and Ministry of Finance.

According to the programme's website, the initiative has been designed to help Ghana's young and innovative population turn great ideas into thriving business enterprises.

"YES, an initiative of President John Mahama, is dedicated to growing Ghana's economy by tapping into the creativity and innovativeness of young entrepreneurs through the provision of financial and expert advisory support for their businesses," yes.gov.gh says.
The programme targets aspiring young entrepreneurs, aged between 18 to 35 years, with a good business idea looking for financial support and/or expert advice to bring their ideas to life.

The YES initiative, according to yes.gov.gh, offers aspiring young Ghanaian entrepreneurs, services designed around the experience of the 'life cycle' of successful businesses. It also offers resident business support, training resources and entrepreneurship monitoring, with a vision to providing "an opportunity for the creation of jobs for and by the youth of Ghana." Yes.gov.gh also said the President's objective for starting the programme is to "give young Ghanaians an opportunity to showcase their talents and entrepreneurial skills, and challenge the youth to start new businesses and employ other youth."

Mr Akufo-Addo, however, said that the youth of Ghana are angry, hungry and have given up any hope of the country offering them a bright future.

In his view, rather than offering hope to the youth, the Mahama administration has given the country nothing but hopelessness through economic hardships, rampant and widespread corruption, rising cost of living, and the high levels of unemployment.

To him, the Government has "created an unrelenting social crisis in Ghana," especially in the area of youth unemployment.

He said Ghana's youth are "disproportionately jobless," a situation he fears could destroy the future prospects of the youth.