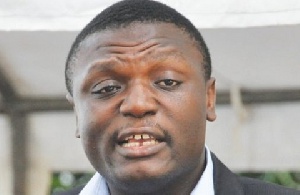 National Organiser of the National Democratic Congress (NDC) Kofi Adams has accused President Nana Addo Dankwa Akufo-Addo of being behind a mastermind to get the former Chair of the Electoral Commission, Ghana (EC), Charlotte Osei, out of office.
According to him, the president has been unfair in the way he handled the petition against the EC as against others that have been brought to his notice.

Mr Adams argues that the swiftness with which President Akufo-Addo handled the "faceless" petition brought to have Mrs Osei investigated is not the same he handles other petitions.

For example, the former NDC Deputy Secretary said a petition has been sent to the president by some youth of La against the Chief Justice, Sophia Akuffo.

But for over six months, Mr Adams said on TV3's New Day on Saturday, the president has not even said anything about it.

He said when such happens it gives room for suspicion, of possibly a witch hunt in the removal of Mrs Osei.
Mrs Osei was removed from office – together with two other commissioners of the EC – for "misbehavior and incompetence", according to a statement issued by the Minister of Information, Dr Mustapha Hamid.

READ: Charlotte Osei, deputies sacked

She has since given indication of responding in due time as she mourns the death of former Vice President Paa Kwesi Amissah-Arthur.

READ ALSO: Charlotte Osei heartbroken 'this morning'

But Kofi Adams alleged that some people were sponsored to go to court in a grand scheme to have Mrs Osei removed.
He said it is, therefore, difficult for the NDC not to impute unfairness on the part of the president in the action that he took.

He said the talks about the president being just a "conveyor belt" in handling petitions as alluded to in the country's constitution seemed to be missing in other matters.

Mr Adams demanded from the president to display the same "conveyor belt" attitude by forwarding the petition from the youth of La to the appropriate quarters for address.

He said the NDC will be on the watch-out as to how the president will select new commissioners to the EC.

"This is the first time one president will appoint the chair, the two deputies and one other."