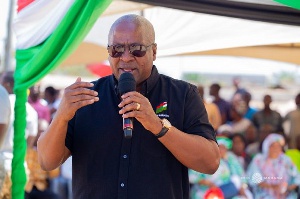 Former President John Dramani Mahama missed the point when he said he would restructure all small-scale mining activities in the country should he win the next general elections, Mr Charles Bissiw, Secretary to the Inter-Ministerial Task Force on Illegal Mining, has said.
According to Mr Bissiw, the current administration has already started implementing a comprehensive roadmap that is shaping and modernising the activities of small-scale miners in order to protect water bodies and the environment in general.

Mr Mahama had said the next administration of the National Democratic Congress (NDC) will ensure that artisanal small-scale mining, also known as 'galamsey', is regulated to provide sustainable employment for the youth.

The regulation, he explained, will ensure that artisanal mining is environmentally friendly to the country's water bodies.

Addressing separate meetings of mining communities in the Upper Denkyira East and West Constituencies in the Central Region as well as Obuasi East and Obuasi West Constituencies in the Ashanti Region on Monday, 12 November 2018, Mr Mahama said his erstwhile government resorted to new ways of tackling the galamsey problem when it became clear that using the military to clamp down on them was not going to provide a long-term solution.

Mr Mahama said his government, therefore, considered a new legal regime of addressing the issue.
"But the current government is promising a new policy and we are hoping that they implement it to allow small-scale miners to start working immediately. If not, the NDC government to be formed after the 2020 general elections, would implement a new regulation to enable the small-scale miners to work effectively", he said.

Reacting to Mr Mahama's comments on Ghana Yensom hosted by Kwabena Prah Jnr. (The Don) on Accra100.5FM on Wednesday, 14 November, Mr Bissiw said: "For four years as vice-president and four years as president, he [Mr Mahama] could not conceive the idea to streamline the activities of the miners and, so, what new thing is he going to do to help them?.

"The plans and programmes he claims he has for them are already being implemented by this administration; there is a roadmap in place that is streamlining and modernising their activities.

"Under the roadmap, the miners are being given insurance cover and ID cards for proper identification. Drones and other gadgets have been brought in to modernise their operations. These are some of the things on the road that even other African countries are learning from and want Ghana to help them implement.

"Mr Mahama is campaigning for votes from NDC delegates and that should be his focus, he is missing the target audience for his campaign", he said.