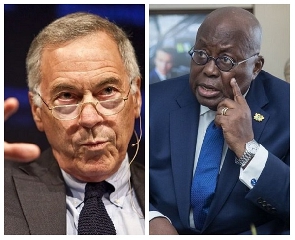 Professor of Applied Economics at Johns Hopkins University in the United States, Steve Hanke, has raised concerns over Ghana's economic management under President Nana Addo Dankwa Akufo-Addo.
His remarks come in the midst of the #OccupyJulorbiHouse protests organized by Democracy Hub and some concerned citizens, which have erupted in response to rising living cost.

In an assessment of President Akufo-Addo's leadership, Professor Hanke described the situation as a demonstration of " incompetence."

Hanke's statement also suggested that President Akufo-Addo is facing a challenging situation with limited options.

He remarked that the president is "rightfully caught between a hammer and a hard place," implying that the economic hardships experienced by Ghanaians have placed him in a precarious position.

"Ghana's Pres. Akufo-Addo's INCOMPETENCE has Ghanaians up in arms, holding #OccupyJulorbiHouse protests over the staggering increases in the cost of living. Pres. Akufo-Addo's rightfully caught between a HAMMER and a HARD PLACE. Looks like the hammers about ready to fall," he said in a Twitter post on September 24, 2023.

On the last day of the three-day #OccupyJulorbiHouse protests, protesters attempted to force their way through a police barricade deep into the night and march to the presidency.
This is despite the illegal arrests and police highhandedness that marred Day 1 when police arrested 49 protesters, who were detained for hours on allegations of unlawful assembly.

All of them were later released on bail.

Day 2 and 3 passed without any major incident as police barricaded the main road leading to the presidency, Jubilee House, even before the protesters began their march towards the place.

While Day 2 saw the blocking of one part of the 37-Accra Road, the final day saw the blocking of both sides which meant vehicular traffic was greatly constrained for the better part of the day.


Ghana's Pres. Akufo-Addo's INCOMPETENCE has Ghanaians up in arms, holding #OccupyJulorbiHouse protests over the staggering increases in the cost of living. Pres. Akufo-Addo's rightfully caught between a HAMMER and a HARD PLACE. Looks like the hammer's about ready to fall. pic.twitter.com/AC4qAHztb1

— Steve Hanke (@steve_hanke) September 24, 2023
AM/SARA
Ghana's leading digital news platform, GhanaWeb, in conjunction with the Korle-Bu Teaching Hospital, is embarking on an aggressive campaign which is geared towards ensuring that parliament passes comprehensive legislation to guide organ harvesting, organ donation, and organ transplantation in the country.

Watch the latest edition of BizTech below:



Click here to start the nomination process for the 2023 GhanaWeb Excellence Awards