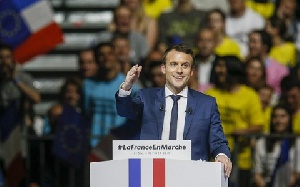 President Nana Addo Dankwa Akufo-Addo has congratulated Mr Emmanuel Macron on his electoral victory in the French election with a call on him to continue strengthening the ties between France and Ghana as his predecessors have done over the years.
"I join well-wishers all over the world in congratulating the newly elected President of the Republic of France, M. Emmanuel Macron, on his decisive victory in the presidential election run-off held over the weekend," he said in a statement, adding: "I applaud the determination of M. Macron in his acceptance speech, to fight the divisions that undermine France, and effect the change the French people voted for."

Nana Akufo-Addo also congratulated outgoing French President François Hollande for his dedicated service to the French people and his efforts in helping to deepen the relations between France and Ghana.

According to him, Mr Hollande's efforts at deepening the relationship between Ghana and France "are deeply appreciated and will not be forgotten".
Mr Akufo-Addo concluded: "It is my hope that Mr Macron will continue in the stead of past leaders of the great French nation in strengthening the ties between France and Ghana, and the entire African continent."

Mr Macron became the 25th president of France having beaten the far-right National Party's Marine Le Pen.