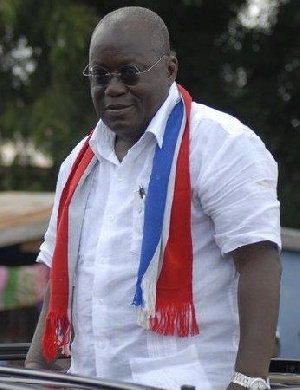 Thu, 2 May 2013 Source: Joy Online
An Accra high court will this morning hear a case of impersonation brought against the 2012 flagbearer of the New Patriotic Party (NPP), Nana Akufo-Addo by retired Supreme Court judge Francis Kpegah.
The former judge, who failed to show up in court the last time the case was called, claims Nana Akufo-Addo is holding himself out as a lawyer when evidence available to him proves otherwise.

His lawyers said Justice Kpegah could not appear in court due to ill health.
Meanwhile, a recent document from the General Legal Council, however, confirms Nana Addo Dankwa Akufo-Addo's enrolment details on the roll of lawyers.

His lawyers are praying the court to throw out the case on the grounds it has no merit.
Source: Joy Online