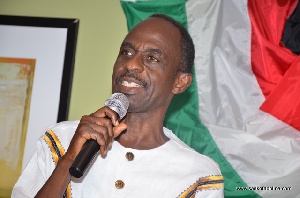 General Secretary for the opposition National Democratic Congress (NDC), Johnson Asiedu Nketia, says the party will meet later today, 24th July 2018 to present further and better particulars on why newly appointed EC boss does not qualify to head the Electoral Commission (EC).
President Akufo-Addo in consultation with the Council of State has appointed the Executive Director of Institute of Economic Affairs (IEA) Jean Mensa as the new Chairperson of the Electoral Commission.

The appointment comes barely a month after former EC boss, Charlotte Osei, was sacked over breach of procurement laws allegations among others.

The NDC kingpin was speaking to Ekourba Gyasi on Atinka AM Drive Tuesday, July 24, 2018.
According to Johnson Asiedu Nketia, the appointment of Jean Mensah is a mere strategy to spite the NDC in the face and that they (NDC) will release a full statement to express its displeasure with all the appointments.

"Nana Addo has intentionally appointed our enemy as EC boss, he wants to get the NDC angry. We the NDC publicly declared that we do not want to have anything to do with the IEA and Jean Mensah as a person and you still appoint her as EC chairperson, it's a mere strategy to spite us," he said.

Asiedu Nketia mentioned that the President has failed because he promised to consult with stakeholders to appoint a neutral person to head the EC.