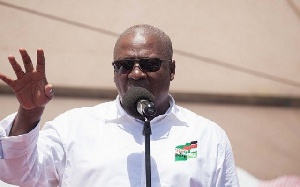 Former President John Dramani Mahama has taken a swipe at the ruling New Patriotic Party (NPP), for ''failing Ghanaians.''
The aspiring presidential candidate told residents in the Central region the current administration has failed woefully. Speaking at Agona West constituency as part of his four-day tour, Mr Mahama said, although President Akufo-Addo pledged to provide better leadership, he has failed to deliver on that promise.

Using football match as an analogy, he said, the NPP saw him [Mahama] as a bad player and thought they could do better.

However, they have failed to even kick the ball over the bar despite the change. ''When you sit at the bench and see your friend playing, you criticize and make people believe in your capabilities but when you are asked to substitute, you flop,'' he said.
Ghanaians he assured will experience superior leadership under a new National Democratic Congress (NDC) administration. ''Ghanaians voted for the NPP because they promised to deliver. They thought it was easy for anyone to manage the economy.

They were voted into office only to come and exhibit extreme incompetence. Every country he opined develops on its social and economic infrastructure and as part of that, his administration invested heavily in infrastructure by constructing schools, hospitals among others.

But the current administration has abandoned our projects after taking over office. Ghanaians are suffering, times are hard, people are complaining of the difficulties they are experiencing.