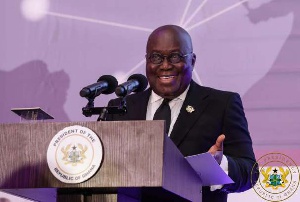 President Nana Addo Dankwa Akufo-Addo is a one-term president and should not attempt to seek re-election in 2020, Prophet Reindolph Oduro Gyebi, popularly referred to as the Eagle Prophet has warned.
Speaking on Onua FM Friday morning, Prophet Oduro Gyebi who said he was speaking from a revelation he had claimed President Akufo-Addo will "sink Ghana" if he attempts a second term.

He told host of Yen Nsempa, Bright Kwesi Asempa that Akufo-Addo's last two years will be phenomenal as God will help him to make Ghana a better place for its people.

However, he said should the President seek re-election, "he will destroy Ghana and what happened to the late President Atta Mills will happen to him".
President Akufo-Addo has "one term and God will help him in his first term but he should not try second term" he advised.

He has meanwhile cautioned the New Patriotic Party consider seniority in selecting a flagbearer for the next election since that could potentially affect them.