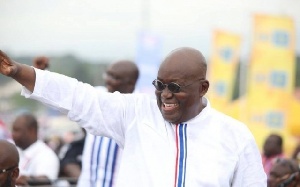 Mrs Naana Eyiah Quansah, the Member of Parliament (MP) for Gomoa Central, has said there is the need for supporters of NPP and floating voters to retain President Akufo-Addo and herself in the 2020 elections to finish the meaningful projects being undertaken.
She said President Akufo-Addo led government has been able to reverse the economic mess bequeathed by the National Democratic Congress (NDC) which brought untold economic pains to Ghanaians.

Mrs Quansah said this when she addressed the media, supporters and football teams at a zonal football tournament organized in her honour by eight zones in the Gomoa Central Constituency at Gomoa Mangoase.

The participating zones were Gomoa Lome, Gomoa Afransi, Ekwamkrom, Pomadze/Aseibu, Aboso-Ekroful, Brofoyedur, Osamkrom, Mangoase, Abonyi/Abaasa and Benso/Akropong. She said the football tourney was to bring the youth of the party and non- members together as one body to foster unity, freedom and development in the constituency.

Pomadze/Aseibu won the giant trophy and football jerseys whilst Gomoa Ekwamkrom/ Jukwa took the second place and received a set of football jerseys and unspecified amount.

Mrs Quansah appealed to the Youth and Sports Ministry not to concentrate on the selection of footballers from regional capitals alone but also spread its tentacles to rural areas to include more talented youths.
The MP urged constituency executives, polling station executives, council of elders and other supporters of the party to leave no stone unturned in the effort to retain the party executives in the 2020 elections.

She said that President Akufo-Addo and his economic management team led by Vice President Dr Mahamudu Bawumia were working assiduously to create jobs and wealth for the unemployed graduates to reduce their economic hardships. The MP appealed to the chiefs and the people of Gomoa Central to rally behind the NPP government which has kept its faith with the people.

Mr Benjamin Kojo Otoo, District Chief Executive (DCE), urged the youth in the constituency to exercise restraint because the government was working harder to create job opportunities for them.

He said the assembly has nursed over 200,000 seedlings of cocoa to be distributed to farmers free of charge and urged the youth to give a thought to the cocoa farming vocation.